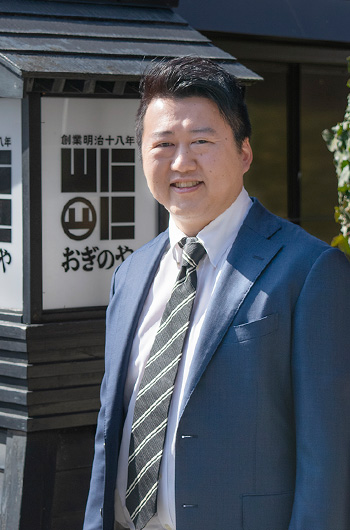 President and Representative Director
Shikazu Takamizawa (6th generation)
Toward the Future
Innovate again.
In the past, 峠の釜めし has been an innovation that saved 荻野屋 from a business crisis and laid the foundation for its subsequent breakthrough, but we feel that further innovation is essential in order to further advance 荻野屋 into the future.
I learned about innovation methodologies during my graduate school years and am now applying them to management. Innovation is largely based on ideas, but it is not the result of the ideas of a single genius. I am convinced that innovation is born from the participation of many people with diverse backgrounds, which leads to many new discoveries and makes work more enjoyable.
荻野屋 has been operating in the Gunma and Nagano areas for many years and has worked to rebuild a stable business foundation in my generation. Then, with an eye toward future global expansion, we made a full-scale entry into the Tokyo market in 2017. We have a permanent store in Ginza, as well as manufacturing bases and new business categories and stores throughout Tokyo.
As a manager, I aim to manage my company with both stability and innovation, and I believe that a company organization functions through the division of roles. I believe that a company organization functions through the division of roles. I believe that people who can demonstrate their strengths and abilities gather together and play their roles toward the direction the company is aiming for.
Currently, 荻野屋 has managed to continue to this day with the support of many employees and business partners and the patronage of many customers. However, in order to further enhance our business and make it more convenient for our customers, as well as to improve our internal environment and make it a more enjoyable company, we still need more people to join us.
If there is anything you need to know about 荻野屋 or anything you would like to do at 荻野屋, we invite you to join 荻野屋 and together we will make this new era a fun and fulfilling one. We look forward to receiving applications from many people.
(Reference URL:https://www.oginoya.co.jp/oginoyability/message)